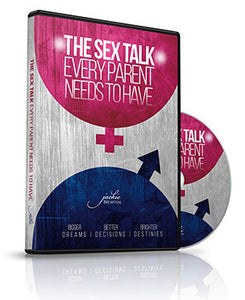 The Sex Talk Every Parent Needs To Have (DVD)...Digital version also available
Regular price $29.99 $14.99 Sale
In this one-hour and forty minutes inspiring presentation, Jackie empowers parents to have the much-needed sex talk with their teens. Jackie introduces parents to the root causes of premature sexual behavior and reveals the consequences of teen sex in the 21st century. 
She also equips parents with effective communication tools, proven strategies that have worked for her in the classroom and common approaches that do more harm than good. Jackie concludes with what parents must do in order to effectively engage their teens in open and honest dialogue about sex.
Praise for the DVD...
"Wow, the DVDs!!!! The information and practical steps you gave the parents were invaluable tools. We are planning to have a parent gathering and allow them to view the video with their teens, and hopefully open some healthy dialog between parents and their kids. I'm so glad I took the chance and purchased the entire set of DVDs. It was money well spent." ~ Youth Leader 
"I LOVED the parent DVD. I really needed it. It was a huge blessing. I took soooo many notes. I kept stopping it and rewinding. I've been telling every parent I know about it. It was perfect." ~Mom of a Teen
"As a mother, an educator, and a woman who was not given any sex ed as a young person, I highly recommend this video. I loved it! As a parent I knew ideally what I wanted to tell my kids, but now after watching Jackie's video I have the words and an action plan. I'm now aware of surprising and unexpected adolescent sex data. The video also helped me understand the issues teens face today, which are so different from when I was a teen.

This video is for any kind of parent -- for those that just don't know how to start "the conversation" or those for whom the mere idea of having "the conversation" makes them uncomfortable. I also think that both religious and nonreligious parents would agree with and appreciate this material.

Time to get our heads out of the sand! Our kids need us. I'm so glad I stumbled across Jackie's website and this program. I feel informed and confident in my ability to support my child through their preteen and teen years." ~Amazon customer
This DVD presents a wealth of knowledge, motivation, tools and techniques to equip every parent for that all-important responsibility of preparing their children to be fully informed and motivated to make sexual decisions that will set them up not only to successfully navigate the scary teenage years, but also to set them up to be successful adults and to have successful families, due to the choices they make about sex during their teen and early adult years.
For parents who take their responsibility seriously to have "the sex-talk" with their teen boy or girl, this excellent DVD will thoroughly prepare you with the foundation and the 'nuts and bolts' of what you need to know and to discuss with your teen, and how to do it in ways that your teen will actually listen to, understand and adopt as part of their personal values.
As a chaplain, I use this DVD in my ministry to parents of kids in my local juvenile detention center, but it is a DVD that all parents should get to be fully confident in making the all-important 'sex-talk' with their pre-teen or teen boy or girl, or in correcting their own understandings of what it means to be a responsible mother or father, for the sake of their children.
I highly recommend this invaluable DVD become part of every prepared parent's arsenal of effective parenting tools - you will never be sorry you've made this invaluable investment in yourself, and then in your teens." ~ Amazon customer