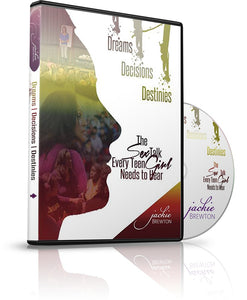 The Sex Talk Every Teen Girl Need to Hear (Digital Version)
Regular price $19.99 Sale
In this hour long, "real talk" discussion, Jackie sits down with teen girls to share:
Benefits of discipline and delayed gratification
Importance of valuing education, having a vision and setting goals
Risks involved with teen sex (physical, emotional and legal)
Importance of valuing and respecting themselves
Teens will enjoy having an understanding adult speak openly about a topic they often find too awkward to discuss with their parents. Adults will appreciate watching an expert demonstrate methods for opening up dialogue with their own kids. Join Jackie and let's start this conversation together!
Praise for the DVD...
"The DVD was amazing. I was sad because it ended too soon. You have a lot of good pointers and moments where I laughed. Then I had those moments where I went, 'ouch'...It gave you a lot to think about. It was like a tease though. When young ladies or teenage girls see it, I think they will want more. The video gave me more than enough reasons to hold on to my virginity until I have my diamonds and pearls. Thanks again. I love you." ~ Teen Girl
"I let my hair stylist borrow your DVD for her 14-year-old daughter. They watched it last night, and her daughter LOVED it. She said they talked all night and her daughter wants a copy to show her friends! She wishes you could come to NY!" ~Parent
"I got the DVD and we watched the first half. It was a great way to have the conversation. Thank You! It really gave the girls something to think about. And it made it easy to start the conversation about sex in a healthy manner. Please let me know if you are ever in the south Florida area. Cheers!" ~Counselor
"I just wanted you to know I have been dating a guy for a while now and he started asking me about sex and begging me to do it all the time. So, I begin to wonder what the big deal about it was...Then I watched your DVD the other night and I have told him, 'I am really sorry but I am not doing that kind of stuff,' and he broke up with me yesterday. But it's okay because it just proves what he wanted out of our relationship." ~Teen Girl
"I watched your DVD with my goddaughter. At the end of the DVD, she spoke 3 words I will never forget—'That was AWESOME!' That meant so much to me because not only did the DVD address abstinence, but also it addressed the daddy issues and value/self esteem." ~Godmother
"This powerful DVD should be in the hands of every teen girl around the world. I love the fact that Jackie didn't deliver a 'pep talk' but 'real talk.' I would highly recommend this phenomenal DVD as a tool and wonderful resource that can be utilized by parents, schools, churches and mentoring programs. Order your copy today, it will be the best investment that you'll make in the life of a young girl." ~Youth Leader
"All parents and youth leaders need to invest in this DVD. Instead of telling teens to say NO to sex, [Jackie] encourages them to say YES to their dreams. There are so many quotes, powerful points and anecdotes in the message that it will resonate and have an impact on ALL who hear it." ~Youth Leader